Parade Information for Watching the Parade
When and where is the parade?
The 2023 Cambridge Santa Claus Parade will take place on Saturday, November 18th, 2023. The parade will move onto Hespeler Road from Dunbar Road at 6:00 p.m. It will turn off Hespeler Road at Langs Drive.
Road Closures
The Parade Map below contains information for road closures and detours. Road closures will be in effect from 4:30pm for about 3 hours.
Police and security personnel will be controlling traffic, including exiting parking lots along Hespeler Road. Please be cautious and listen to their instruction.
Parking
There is plenty of parking lots along the parade route. Please remember that it is a first come first serve basis and store specific parking spaces are still in effect if labelled.
The Cambridge Santa Parade is not responsible for and damage to vehicles including theft of items from the vehicle.
Parade Map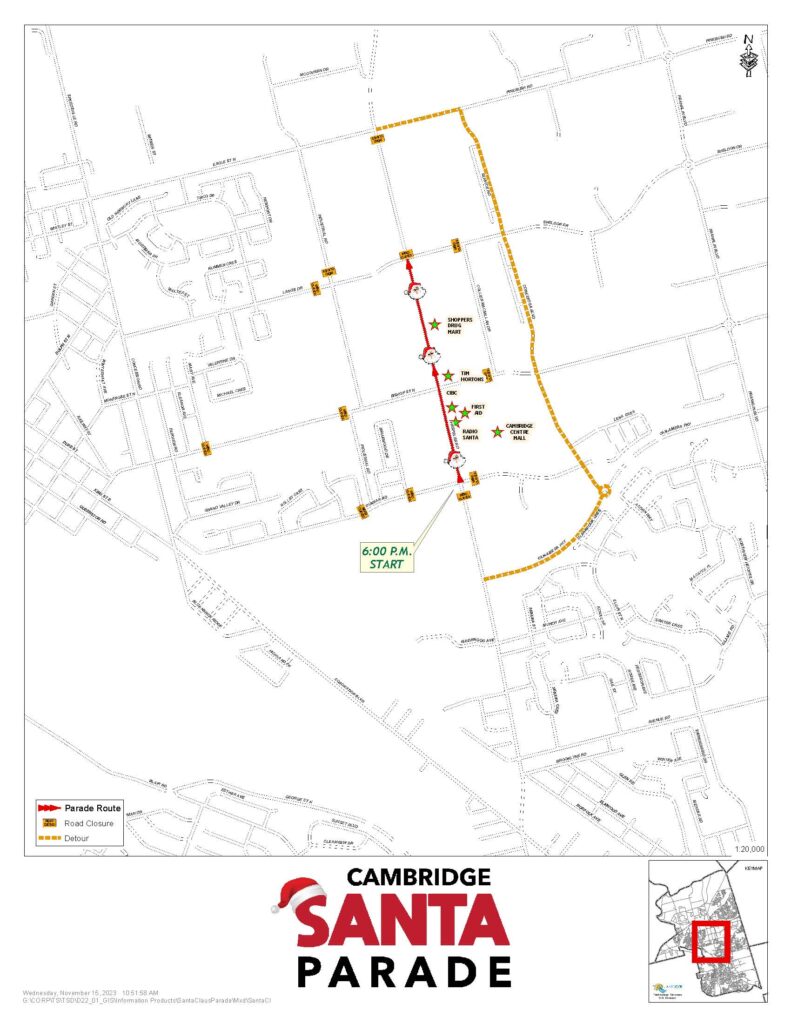 Click here to download a PDF map
Parade Information for Parade Participants
Getting to the Marshalling Area
Enter the marshalling area at Langs Drive and Industrial Rd. as shown on the map.
Report to the Marshal in a green vest whose number corresponds to the section number you have been assigned.
Follow the marshals' directions for placement in the lineup.
Parking
There will be no vehicular traffic within the marshalling area other than the actual floats. Car-pool close to the area; walk-in your float participants! After unloading, vehicles should continue directly to parking in nearby lots to wait for the parade to finish.
Please respect property owners and private parking lots. If there are 'No Parking' signs, please obey them.
Washrooms
There will be portable washrooms available in the line-up area.
Parade Headquarters
The parade headquarters will be at the entrance to the public works yard on Dunbar Rd. All section marshals are in radio contact with the base. It is for emergencies only.
Parade Officials
The authority of the Parade Marshal is absolute in all matters pertaining to the marshaling area, parade route, and dispersal time. The Parade Marshal will wear a green safety vest.
PLEASE BE RESPECTFUL AND FOLLOW THE DIRECTION OF THE PARADE OFFICIALS. They are working hard to ensure everyone enjoys the parade.
BE SURE TO READ ALL OF THE RULES AND REGULATIONS!
Other Information
The parade will move onto Hespeler Rd. from Dunbar Rd. at 6:00 p.m. sharp! It will turn off Hespeler Road at Langs drive and loop back to Industrial Road where it will disband. You are to proceed to the same location you began in to avoid congestion of those behind you.
If a float/vehicle breaks down, move it to the side of the road. There will be a vehicle available to assist if necessary. A marshal can reach it by radio.
Emergencies
In the event of an emergency, such as a lost child or medical distress, there will be Police and Security throughout the parade route. We will all be in constant contact to respond to any emergency that may arise.
Parade Map